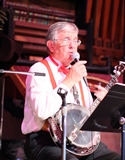 RON RUIZ - Leader, Banjo, Vocals
Ron Ruiz, a College ROTC graduate, served in the US Army for 10 years as a fixed and rotary wing aviator. In civilian life he retired from Lockheed Corporation as Chief, Plans and Controls for Navy programs. Later, Ron and his wife, Sheila, began a career as artists of bronze sculpture. Their work is collected worldwide and featured in fine art galleries across the country. Ron is a student of early American jazz genre and has performed with various jazz groups over the years He has been playing banjo with the Riverboat Dixie Jazz band from its beginning in 1998. Ron and his wife Sheila live in Westlake Village CA.
---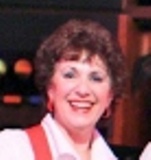 JOAN ADLER - Keyboard
Joan Adler is a Cum Laude graduate in music from UCLA with post graduate work in music education. She grew up listening to string quartets and playing piano and accordion with her parents both of whom were musicians and teachers. She teaches piano and sings in the award winning Sweet Adeline International Channelaire Chorus in Camarillo, CA. She has recently finished an advanced course in musical arranging. Joan has been playing keyboard with Riverboat Dixie continually since 1998 because, she says, of her love of this genre of music. Joan lives in Thousand Oaks, CA with her husband, Ron.
---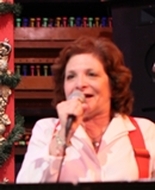 JANET DAW - Vocalist
Janet has been singing since early childhood in elementary, middle and high school choirs; a college chorus that sang with the San Francisco Symphony Orchestra, and she has been singing barbershop music as a Sweet Adeline for the past 25 years. She was born and raised in Southern California, earned a BA from Stanford and a MA in journalism from Northwestern and parlayed a 30 year career as a writer and editor for local newspapers into an editing position with Amgen. Janet lives with her husband Willie, a fellow "barbershopper", 3 sons, a daughter and stepdaughter in Camarillo, CA.
---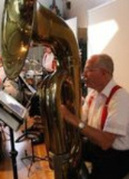 KEN DICKEY - Tuba/vocal
Ken, a retired US Navy Commander, has been active in a variety of musical groups in addition to the Riverboat Dixie band including the California Lutheran University Wind Ensemble and the Camarillo Community Band. In his earlier years, he played tuba in the USC Trojan marching band and worked in the air charter and airline business as a pilot, operations manager and financial manager. More recently he owned and operated a retail business in Newbury Park, CA and currently is a docent at the Ronald Reagan Presidential Library. Ken lives in Oak Park, CA.
---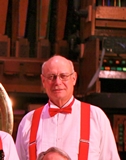 JIM FLYNN - Drums/Vocal
Jim grew up and went to high school in the Philadelphia suburbs. He earned a Bachelor's degree in Chemical Engineering from Drexel Institute of Technology, after which he spent 32 years in the petroleum industry with Exxon Company USA before retiring in 1999. Jim has been playing drums since grade school. He was in his high school band and played in a small progressive jazz combo. While in college he played in several rock bands and at local college events. Jim is active in jam sessions and sits in with local and non-local bands. Now, Riverboat Dixie is his "home." Jim lives with his wife Karen in Thousand Oaks, CA.
---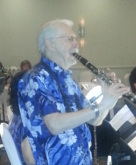 SAM GLENN - Clarinet
Sam began his musical career in Washington D.C. and New York where he studied at the Eastman School of music. He has played with the Billy Butterfield Band, the Bob Cross Orchestra and the Red Norvo Quintet. Sam has played for many vocalists and entertainers over the years including Lena Horne, Pearl Bailey, Robert Goulet, Eartha Kitt, Gordon and Sheila McRae, Sophie Tucker, Liberace, Roger Williams, Carmen Cavallero, and many others. He is a regular in several local swing bands. Sam and his wife Geri live in Granada Hills, CA.


---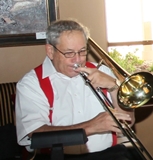 ED HIRSCH - Trombone
Ed Hirsch learned to play trombone in middle school. He played during high school and at UCLA where he was a music major and was in the Bruin Marching Band. After graduation he became a sound effects and dialog editor for movies and television. He honed his skills in Dixieland music after retirement by attending a number of Dixieland Jazz Camps. In addition to being a member of Riverboat Dixie, he also performs with the Sedalia Ragtime Orchestra, the Village Klezmer group, two big bands and the UCLA Alumni Band. Ed lives with his wife Judy in Chatsworth, CA
---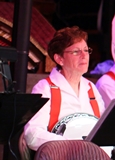 LINDA ORGAN - Banjo
Linda can be found behind a band saw, a camera or a banjo. She has been a professor at University of Southern California and California Lutheran University for over 30 years. Her area of research is the development of creative thinking. She is currently a Founder and the Director of Education for the Discovery Center for Science and Technology, an interactive science museum serving Ventura and Los Angeles counties. Linda also plays the guitar and string bass and is an original member of the Riverboat Dixie band. She resides with her husband, Stan, in Westlake Village, CA.
---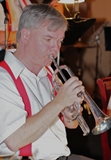 SCOTT YAWGER - Trumpet/Cornet/Vocal
Although trained as a Chemical Engineer with an MBA in Finance, Scott has spent the last 16 years playing the trumpet professionally. He has performed in the pit orchestra for over 40 musicals. On the East Coast, Scott was a founding member and leader of the Moonlight Brass Quintet; a member of the Salem County Brass Society and principle trumpet of the Arden Festival Orchestra. He has played lead trumpet with the Ojai Big Band, Angel City Big Band, Seniors of Note Big Band and the Dan Taguchi Big Band. He teaches trumpet and has been with Riverboat Dixie since 2006. Scott and his wife Ellen reside in Thousand Oaks, CA.

---